Awesome & bizarre Cassini images
NASA released several stunning
processed images
today from the Cassini spacecraft's recent close flyby of Saturn's moons Titan and Dione on the 13th and 14th December. There has also been a constant stream of fascinating images appearing on the Cassini
Raw Images archive
.
There were a lot of images that didn't make the press release, but seem worthy of interest - at least to me! Here's three examples:
The first is a crop of one of the raw images of Dione, showing a perfectly straight channel cut across the face of the moon. Such a linear feature is unlikely to be caused by tectonic activity, so was it possibly caused by a grazing encounter with another body?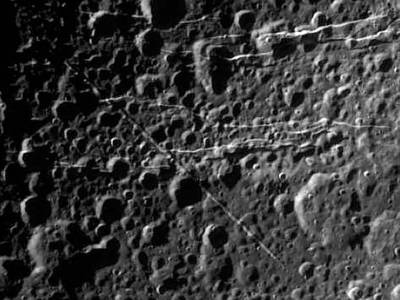 The next is an intriguing image of the shadow of the rings on the surface of Saturn. Who would have thought that the rings could give such a well defined shadow image on the surface of the planet?
This last image reminds me of a shot of a UFO. A disk hanging in space - although its really a view of the pole with the shadows of the rings cast across it. With dozens (hundreds?) of turbulent storms to be seen on the surface of the planet's atmosphere. Literally - breathtaking...